October 24-- Wednesday Twelfth District Congressman Rick Allen and nearly 50 other Republican Congressmen tried to confront Congressman Adam Schiff in a basement room of the House of Representatives where Schiff is holding secret impeachment proceedings against President Trump.
Congressman Allen released the following statement.
"When we showed up to the House committee to observe testimony from a witness Schiff called, unbelievably he took the witness and left the committee room. What was he trying to hide?

"Schiff has denied Republicans in Congress access to investigation documents, witnesses and the transcripts of their testimony. Why? Because Nancy Pelosi and her handpicked witch hunt leader do not want the American people to find out what is really going on with their investigation.

"Yesterday, my colleagues and I took a stand against these secret impeachment hearings. It was the right thing to do. I am glad we did it."


Tuesday night Congressman Allen spoke on the House floor in strong opposition to Speaker Pelosi and House Democrat leadership's impeachment inquiry into President Trump. Congressman Allen's remarks can be found below.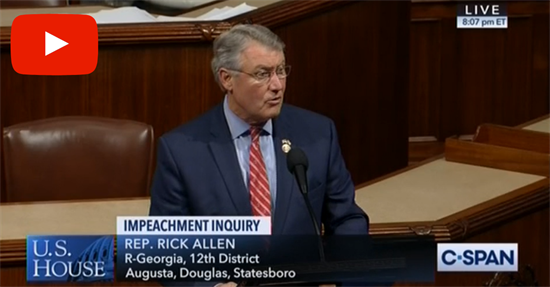 I rise today to strongly oppose the lack of transparency by Speaker Pelosi and the Democrats' impeachment inquiry into President Donald Trump, our duly elected president.

Instead of following precedent and putting the Judiciary Committee in charge of this process, Speaker Pelosi has empowered House Intelligence Committee Chairman Adam Schiff to run this effort behind closed doors, with no accountability and in secret – and he is hand-picking what information to leak.

So what happened to Chairman Nadler in Judiciary Committee?

If Democrats truly believe that this is the right thing to do, why won't they hold a vote?

The Democrats' complete disregard for following a fair process is alarming and quite frankly, un-American.

They are misleading the American people while ignoring action on the pressing issues at hand.

The truth is they only have one goal, and that is to undermine President Trump and ensure he cannot do what he was elected to do, like passing USMCA, immigration reform, modernizing healthcare and securing our border.

Let's end this nonsense and get to work on the issues that matter to the American people.